Exchange Regency Nears Completion
Manila Bulletin
November 17, 2010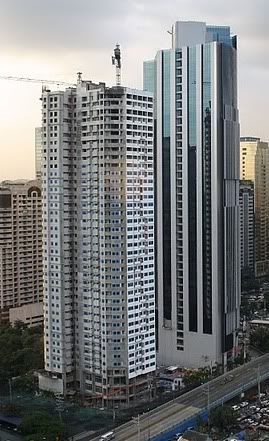 MANILA, Philippines – The many possibilities of living life in luxury are fast taking shape as construction of the 42-story The Exchange Regency nears completion. Developed by Nobleland Ventures, Inc., the structure will be a significant landmark with a design that resembles the pictogram symbol of infinity. It is expected to be completed in 2011. The P2-billion project is located on a rare three-corner property where the Exchange Road, Meralco Avenue and Jade Drive in Ortigas Center converge.
According to Jonas Senia, general manager of Nobleland Ventures, the construction recently marked the 100 percent completion of the pre-cast wall of the building. "We are excited to announce that construction of the project is moving as scheduled. Installation of windows is 70 percent completed, while unit partitions are nearing 90 percent completion," he noted.
"Applying of unit finishes, as well as the tiling of bedroom, dining, living, kitchen and toilet floors and installation of fixtures inside each toilet and bath have been finished simultaneously with the building of partitions. In the kitchen areas, cabinets with counter tops are already mounted in each unit," he added.
The residential project had already completed the tower's structural columns and foundation and all basement floors are now fully concrete. And in anticipation of the parking demand of tenants, the developers added another parking level to its original three-level parking space. An additional depth of 6.9 meters was also undertaken to create the new levels.
"Also currently underway is the painting of the interiors of each unit, as well as the exterior façade of the building. Thus, we are confident to announce that overall construction is progressing full ahead as planned," he said.
The project will offer 783 affordably-priced one-bedroom and two-bedroom flat units as well as one-, two-, or three-bedroom loft-type units. All flat units are modular and can be combined, depending on the buyer's requirements. These are available to buyers for their homes or as an investment for daily, weekly, or monthly rental through its professional condotel services.
Leave your Comment
---