Settling in Scandia Suites
The Philippine Star
January 28, 2011
Manila, Philippines - Condo living in South Forbes Golf City, the country's largest fully-integrated and all-themed golf resort city at the forefront of the Metro Sta. Rosa – Tagaytay corridor, recipient of the Best Golf Community Development by the 2007 CNBC International Property Awards, the world's most prestigious property awards programme, and, recently, the Highly Commended Award for Best Development by the 2010 Bloomberg Asia-Pacific Residential Award, has reached a new level with the newly-completed Scandia Suites.
"With the recent completion of the first Scandia Suites tower, our buyers can now move in," said Cathay Land president Jeffrey Ng. ""In fact, with the very warm reception to this project, we have begun the construction of the second tower."
Perfect Combination. There is often a high concentration of condominiums in metropolitan locations where land is at a premium. If you want to be in the heart of the city, a condominium may be a good choice. Also, while condominiums have a wide price range, the lower range is often within the budget of first-time buyers and singles who may find single-family houses unaffordable.
Scandia Suites' approach to contemporary living is about living within and beyond the space of one's own home. Everything is within reach – work, education, shopping, leisure, and nature.
Scandia Suites residents are most fortunate. Work and school are only a few minutes' walk away. In fact, the Learning Links Academy of Sta. Rosa, which offers from pre-school to secondary levels and a day care center to boot, is just beside the Scandia Suites compound so the kids do not even have to cross the street. Higher education at the South Forbes City Colleges is approximately 15 minutes leisurely walk from home. Across from the College is the center of South Forbes' Business Cluster, the Cyberpark, which features world-class, built-to-specification buildings suited for BPOs and call centers, supported by The Astoria Plaza South Forbes Business Hotel and Conference Center.
The More, the Merrier. There are four unit types to choose from: studio, one-, two-, and three-bedroom units. And only on the topmost floor are available loft units for those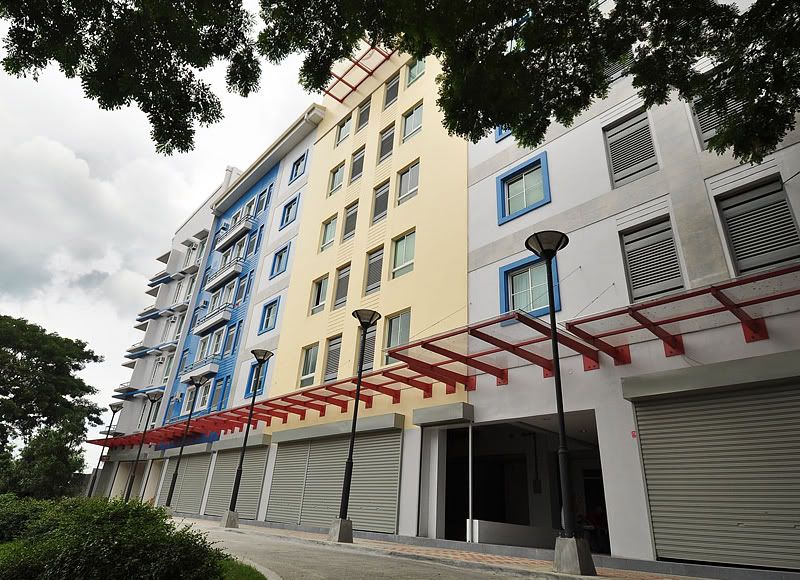 who need that extra room or additional storage.
With a unit of manageable size, domestic duties are kept to a minimum and homemaking can be a most enjoyable activity. Children will enjoy the extra time their parents can spend with them. Also, the option for a fully-furnished unit will come with select furniture with brands known for their style, sophistication and quality.
Take a Deep Breath. Of course, living in a condo has some perks to it. Having neighbors around makes it a lot easier to lock up and leave for a vacation or an extended period of time. Also, condominium buildings often have security features, be they buzzers or a guard service. This is particularly helpful if this is your second home, and you are only there for part of the year.
Aside from the reliable human security offered by the Scandia Suites administration, the fact that the twin-tower condominium is inside a walled compound assures residents that the amenities afforded them are for their private use only.
The Extras. Most condominium developments offer a range of amenities in the common areas. This means that you may have access to a swimming pool, gym or tennis courts that you would not be able to afford on your own.
Leave your Comment
---