Brio Tower Condominium For Sale in Guadalupe Makati City
For Sale Condominium In Makati City
Property Description
Brio Tower Condominium For Sale in Guadalupe Makati City
| | |
| --- | --- |
| | Brio Tower, is a premier condo community project of DMCI Homes—a company of innovative builders and engineering experts that develop modern day living solutions for urban families. Each of its developments is built with world-standard craftsmanship borne from D.M. Consunji Inc.'s almost 60 years of experience in the construction and development industry. DMCI Homes offers its customers the highest level of expertise and its strict adherence to global standards. Its corporate philosophy is anchored on a deep understanding that buying a home is more about investing in a better way of living.Brio Tower is the perfect validation of this timely proposition. Thanks to this feature-rich ideally located community, residents can finally enjoy a more comfortable and meaningful way of life where they can feel real good to be home. |
---
Location and Vicinity Map
Brio Tower by DMCI Homes is strategically situated on a very prime location: near EDSA at the back of Pet Plans Building in Barangay Guadalupe Viejo in the city of Makati. Makati is known for its developed business district making it one of Asia's important financial, commercial and economic centers. Ideally located within Makati, Brio Tower will provide its residents the luxury of time and convenience as it is just a few minutes' drive to Makati CBD, Rockwell Center, Bonifacio Global City, Ortigas and Greenhills.
Brio Tower Makati is highly accessible, as it is only walking distance to EDSA, a major thouroughfare where public transportation is available 24/7. The development is also transit-oriented as the site is just a short distance to Guadalupe station on the Manila MRT Blue Line (MRT-3).
Aside from its proximity to EDSA, its nearness to major establishments and areas of interest (schools, hospitals, leisure establishments, business centers) also make it an ideal abode for those seeking convenience and comfort in the heart of the metro.
Nearby Establishments / Accessibility
1. Business Centers
Makati Central Business District
Rockwell Center
Bonifacio Global City
Ortigas Center
2. Schools / Educational Institutions
Colegio de Sta.Rosa-Makati
Guadalupe Catholic School
Our Lady Guadalupe Minor Seminary
St. Paul School Of Makati
Ateneo Professional Schools
Global City Innovative College
Makati Science High School
University of Makati
Lourdes School of Makati
Rizal Technological University
International School Manila
British School Manila
Mapua – Makati
3. Hospitals / Medical Centers
Victor R Potenciano Medical Center
Unciano General Hospital
Ospital ng Makati
St. Lukes Medical Center
Our Lady of Lourdes Hospital
Rizal Medical Center
Asian Eye Institute
Makati Medical Center
Mandaluyong City Medical Center
The Medical City
4. Churches / Places of Worship
Nuestra Señora de Gracia Parish Church
National Shrine of our Lady of Guadalupe
National Shrine of the Sacred Heart
San Carlos Seminary
Saint John of the Cross Parish
Christ Jesus Our Life Church
Church Of The Holy Trinity
Santuario de San Antonio
Archdiocesan Shrine of the Divine Mercy
Parish of St. John Mary Vianney
St. Michael Church
Cathedral of the King
Holy Family Parish Church
5. Commercial Areas / Establishments
Power Plant Mall – Rockwell Center
Guadalupe Mall
Glorietta Mall
Greenbelt Mall
A.Venue Mall
Market! Market!
EDSA Central Pavilion
Shangri-La Plaza Mall
Star Mall EDSA
SM Megamall
Robinsons Galleria
6. Leisure / Recreation Areas
Ayala Museum
RCBC Theatre
Makati Sports Club
---
Site Development Plan
Brio Tower, a single high-rise tower by DMCI Homes is strategically situated along EDSA, at the back of Pet Plans Tower in Barangay Guadalupe Viejo in the City of Makati, nestled in 5,000 square meters of prime land. Like other DMCI communities, Brio Tower will have a high footprint-to-building space ratio, with a major part of the entire property dedicated to open spaces and greenery, impressive resort-style amenities and other recreational facilities.
Like other resort-themed communities of DMCI Homes, Brio Tower will offer expansive living spaces and generous resort-inspired features making it, a true urban sanctuary. Brio Tower will offer resort-style amenities and innovative community solutions through DMCI Homes' trademark garden atriums and single-loaded building configuration, property management services and security measures that make the development a top investment decision one could ever make.
---
Building Features
Each of DMCI Homes' developments is built with world-standard craftsmanship borne from D.M. Consunji Inc.'s almost 60 years of experience in the construction and development industry. DMCI Homes offers its customers the highest level of expertise and its strict adherence to global standards. Like other DMCI residential projects, Brio Tower will have a distinct architectural theme.
Brio Tower is a one-tower high-rise development of DMCI Homes that will rise atop 5,000 square meters of prime land near EDSA in Makati City. The development will feature the DMCI architectural innovation: the Lumiventt Design Technology. a breakthrough system by DMCI Homes that is built to maximize natural light (lumen) and airflow (ventus) into every unit any time of the day. This design in high-rise living provides for landscaped atriums, placed every five floors, with lush greenery inside the building. Breezeways continually refresh the building. It will will also have single loaded corriders where units are laid out on one side of the floor so doors open up to a garden space or an atrium rather than a neighboring door. This feature allows natural lighting, ventilation and optimum privacy.
The sky patio and garden atriums are adorned with abundant landscaping and water features to provide not only fresh air but also an aesthetic relief to extend to the entire development.
Sky Patio
Landscaped Atriums
Building Features
High-rise development (single tower)
Distinct Architectural Theme
Lumiventt Design Technology
Single Loaded Corridors
Sky Patio and Landscaped Atriums every 5 Floors
Breezeways at the End of each Floor
Balconies in Units
Fire alarm system with automatic fire sprinkler and suppression system
Fire hose cabinets along corridors
Fire exit in both wings
Stand-by power generator
Wi-Fi ready indoor amenity area
---
Floor Plans and Unit Layout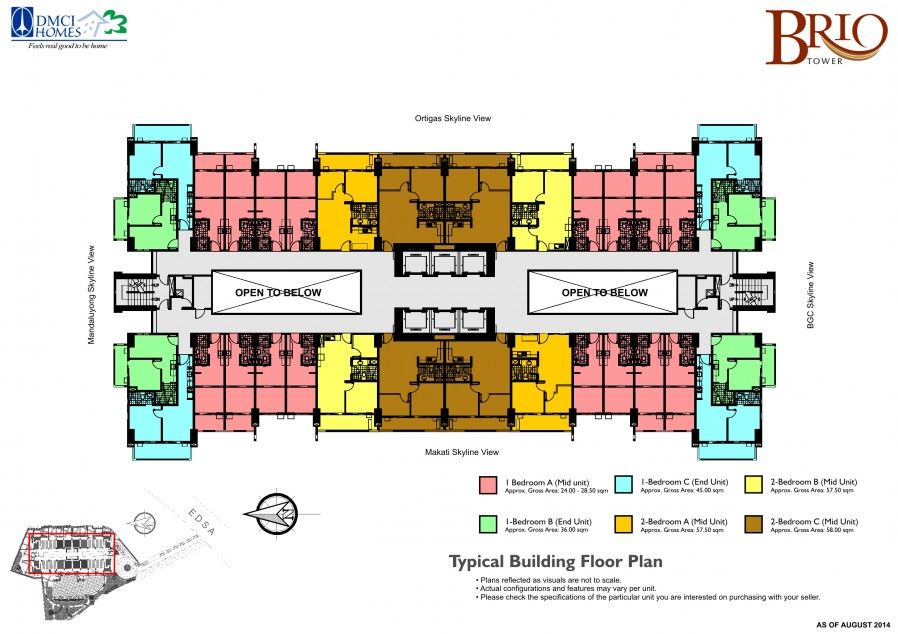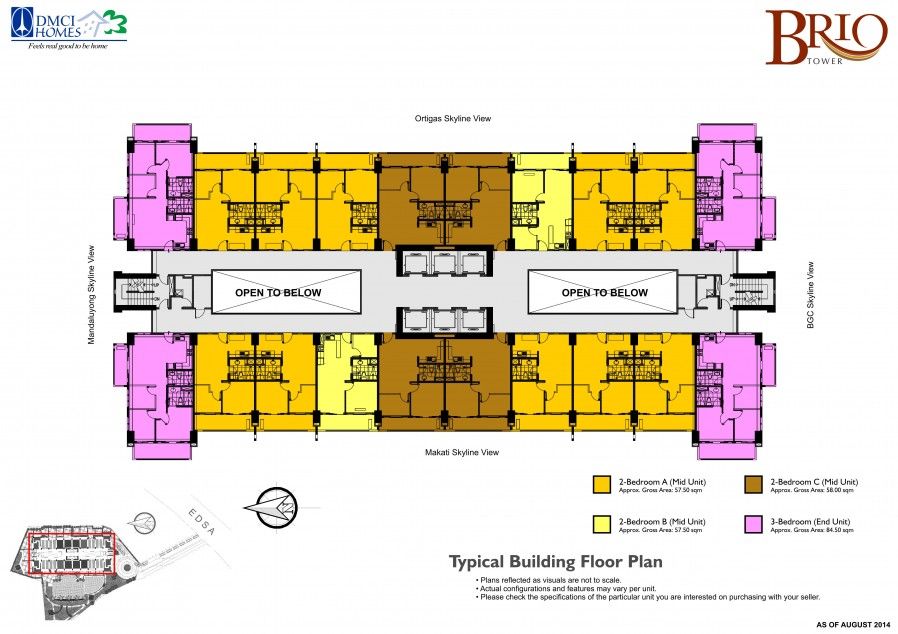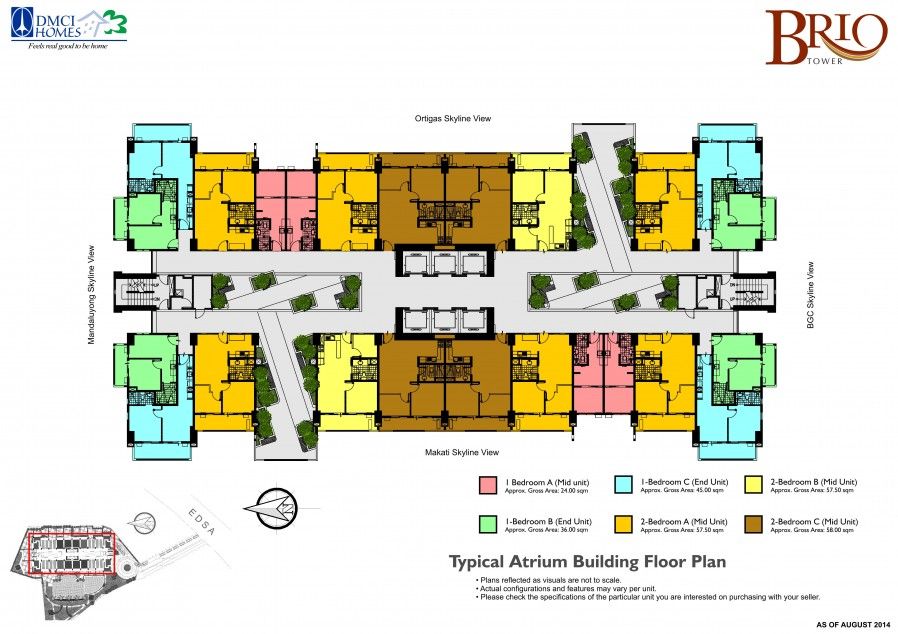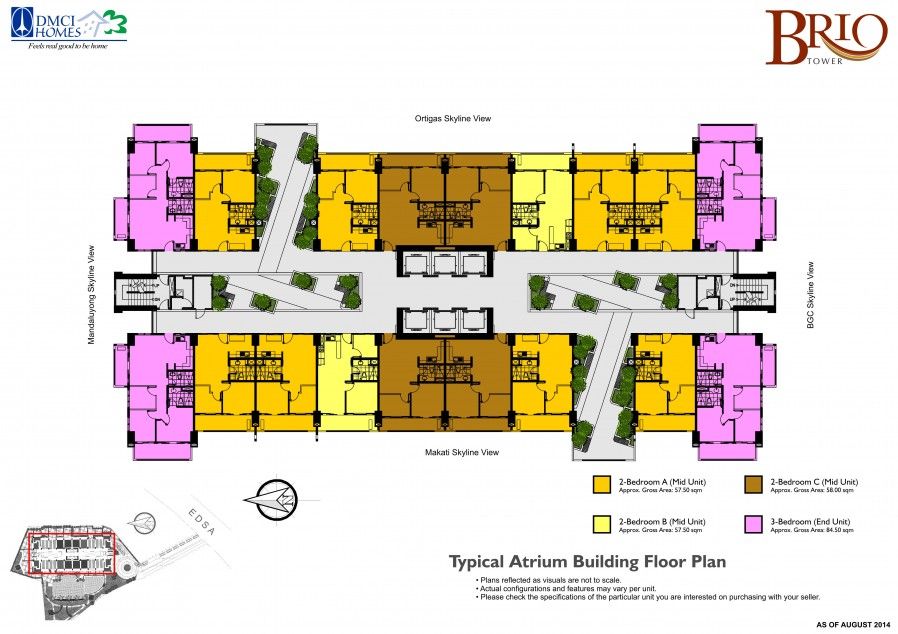 ---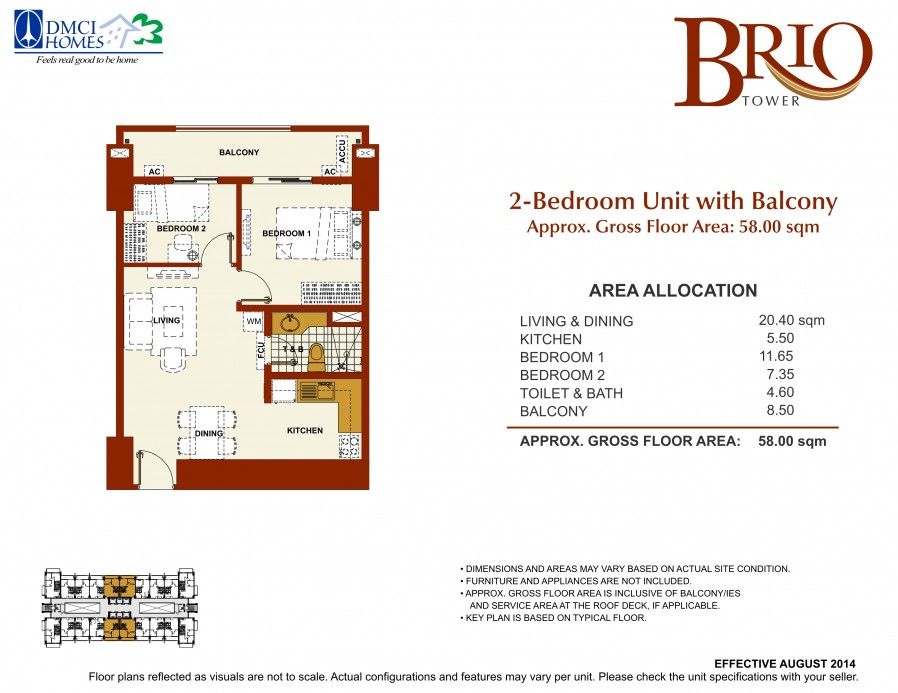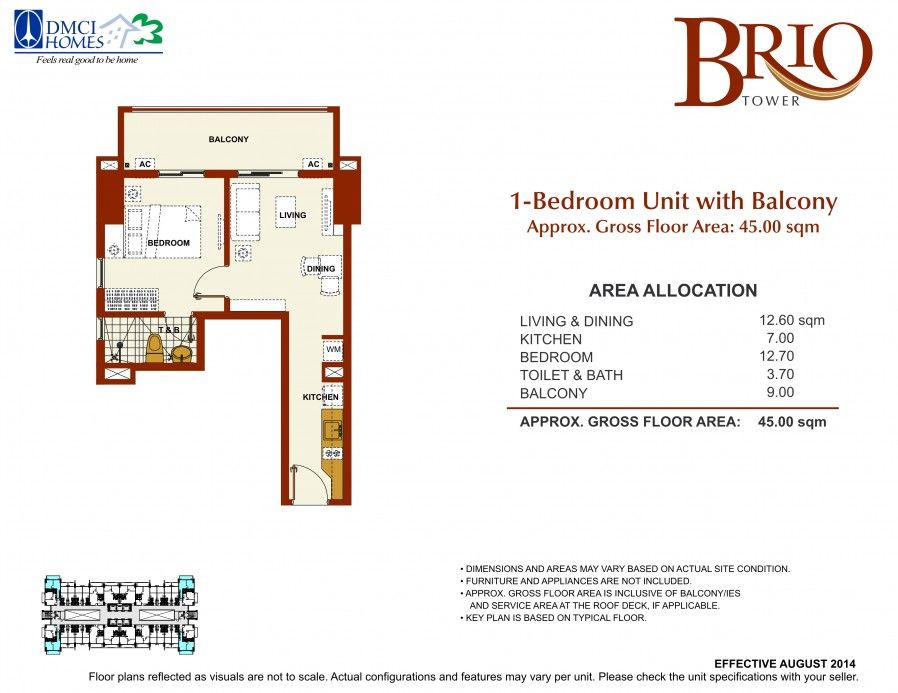 ---
Unit Features
As DMCI Homes has a good track record in the construction industry, owners of Brio Tower's units are assured of larger living and breathing spaces that provide a relief from cramped city living conditions that most city dwellers are used to. With larger than standard unit offerings, future homeowners are provided with options based on their various needs. They can also expect efficient floor plans and high-quality structures with first-rate construction techniques in the development.
DMCI Homes, makes sure that spaces are well planned and sustainable and employ efficient space planning features in all types of units. Brio Tower will offer homebuyers, various unit options all designed with flexible space, first-rate finishes and world-standard craftsmanship, at a price that suits their status.
Every unit will come with residential features fit for a high-rise urban development:
Individual electric and water meters
Individual mail boxes with keys
Provision for cable TV connection
Provision for telephone line connection
Emergency power supply
---
Amenities and Facilities
Like other high-rise condominium projects of DMCI Homes, the country's leading developer of resort inspired communities, Brio Tower will feature commanding skyline views, in-city living convenience and resort-inspired amenities.
Makati Skyline
Come home to resort-inspired amenities at Brio Tower. Here, residents will enjoy the invigorating benefits of genuine resort-lifestyle, courtesy of DMCI Homes, the industry's pioneer in "genuine, resort-inspired daily living". Verdant landscaping, soothing water features, and garden atriums evoke an ambience of a completely comforting retreat, amidst the hustle and bustle of the city.
Resort-Inspired Pool Amenity in a DMCI Development
Brio Tower will have open &/ lounge areas where residents can freely gather around for social interaction and family bonding. The tranquil spots are also ideal for reflection, book reading, or just lounging around to break away from the urban chaos below.
Area for Social Interaction and Family Bonding or Self-Reflection
Most high-rise development projects of DMCI Homes feature a Sky Lounge or a Sky Park. Here residents will have splendid views of the city while sitting back and relaxing with a good book or sitting with guests over a hot cup of coffee or simply enjoying the comforts of living.
Sky Park
With the central atrium and sky patio features inside the building, residents need not go outside to see relaxing views of greens, providing them with a calming effect when they come home stressed from work. All these premium amenities, especially the green elements, will make Brio Tower truly an "urban oasis" right within the city.
Resort-Like Amenities
The upcoming development will be a true resort-inspired community allowing future homeowners to experience a true resort-living ambience with full amenities and best-in-class facilities. Like typical DMCI communities, Brio Tower Makati will be equipped with complete resort-inspired outdoor and indoor amenities that include.
Adult and kiddie resort type swimming pools
Well-landscaped open areas, parks, manicured gardens, gazebos
Play area
Function rooms, fitness gym, KTV room / entertainment room, game room and view deck
Open Lounge Areas with WiFi Connection
With these amenities and developmental features, Brio Tower will truly be the best choice for the young, upwardly mobile individuals who are looking for a home that provides them not just the comforts of a modern condominium dwelling but also an environment with plenty of room to breathe and invigorate their senses.
First-Rate Facilities
Modern-day facilities which are standard features in a DMCI development project will also be provided to residents of Brio Tower DMCI Makati for a more convenient worry-free lifestyle.
24-hour Security Service
Gated entrance and perimeter fence
Security Office
Provision for CATV and telephone lines
Overhead water tank, deep well and underground cistern
Automatic heat/smoke detection
Main Gate in a DMCI High-Rise Development Project
Property Management Services
Experience stress-free living at Brio Tower DMCI Makati, because DMCI Homes' Property Management Group handles the day-to-day upkeep / maintenance of the building and facilities. The development will be a gated high-rise residential village guarded 24/7 for residents' security and peace of mind.
General maintenance of common areas
Roving security personnel for common areas
Move-in assistance
Organizing of community events
Utilities application and payment assistance
Realty Tax payment assistance
Taxi call-in service
Property Details
| | |
| --- | --- |
| | ₱ 2,300,000 |
| | 24 sqm |
| | N/A |
| | N/A |
| | Makati City |
---