Sun Residences - Condominium For RENT Near United Doctors Medical Center in Welcome Rotonda Quezon City
For Rent Condominium In Quezon City
Property Description
Sun Residences - Condominium For RENT Near United Doctors Medical Center in Welcome Rotonda Quezon City, 3 Unit available
Studio Unit with Balcony, fully furnished, with parking 20,000 monthly No Parking 15,000 monthly
---
Sun Residences is situated along España Boulevard corner Mayon Avenue, located in front of Welcome Rotunda.
SUN RESIDENCES SITE DEVELOPMENT PLAN

CONDOMINIUM FOR SALE NEAR UNITED DOCTORS MEDICAL CENTER IN WELCOME ROTONDA QUEZON CITY

---

Simple. Elegant. Luxurious. And master-planned for convenience.

Welcome to Sun Residences . Where bold, minimalist architecture meets luxury and convenience. Here, spacious and comfortable units will be mere elevator ride away from shops, restaurants and a supermarket. A podium level will feature luxurious amenities and leisure areas to provide a relaxing atmosphere.

LAND AREA:
11,832 sqm.
LOCATION:
España Boulevard corner Mayon St., Quezon City (Across Welcome Rotonda)
NUMBER OF BUILDINGS
2 Buildings
TOWER 1: December 2013
TOWER 2: On-going Planning
NUMBER OF FLOORS PER FLOOR
43 Floors
NUMBER OF UNITS
Tower 1-2057
Tower 2-1980
FLOOR ASSIGNMENT
COMMERCIAL & LOBBY: Ground Floor
PODIUM PARKING: 2nd-5th Floor
AMENITY LEVEL with GARDEN UNITS: 6th Floor
RESIDENTIAL LEVEL: 7th-43th Floor
PRODUCT TYPE
Bare with Basic Fittings & Fully Fitted
Studio Unit: 20-20.64 sqm
1 Bedroom Unit: 23.47 sqm
1 Bedroom Unit w/ Balcony: 27.37 sqm
1 Bedroom End Unit: 24.96 sqm
1 Bedroom Unit End w/ Balcony: 28.11 sqm
2 Bedroom Unit w/ Balcony: 42.34sqm
HLURB LTS No.
ENCRFO-09-12-027
SUN RESIDENCES FEATURES & AMENITIES

CONDOMINIUM FOR SALE NEAR UNITED DOCTORS MEDICAL CENTER IN WELCOME ROTONDA QUEZON CITY

---

Amenities that belong in a luxury hotel will offer the taste of 5-Star Living.

COMMERCIAL AREA:

Grand Residential Lobby with Reception and Lounge
SM Supermarket
Commercial Retail Stores

RECREATIONAL FACILITIES AND AMENITIES:

Swimming Pool
Clubhouse with Multi purpose hall
Function Rooms
Students Lounge
Playground Area
Jogging Path
Garden and Gazebos
Patio and Barbeque Area
Parking Areas

BUILDING FACILITIES AND SERVICES:

5-high speed elevators per tower
24-hour security
Back-up power system
Fire alarm and sprinkler system
Centralized mailroom system
Centralized garbage collection and disposal system (thru property management)
Common areas with WI-FI access at the lobby and multi-pupose hall
Overhead water tank and underground cistern for sufficient power supply
Sufficient Fire Exits
Three levels of parking spaces
Spacious Lobby and Corridors

Property Management Services are also available for a variety of needs,like unit leasing, handyman services and general housekeeping. Enjoy these for a reasonable rates.
SUN RESIDENCES TOWER 1: UNITS & FLOORPLANS

CONDOMINIUM FOR SALE NEAR UNITED DOCTORS MEDICAL CENTER IN WELCOME ROTONDA QUEZON CITY

---

---

TURNOVER FINISHES

---

STANDARD BASIC UNIT FINISHES

FLOOR FINISHES:
Living, Dining & Kitchen: 600 x 600 Polished Synthetic Granite Tiles
Bedroom: 300 x 300 Synthetic Granite Tiles
Balcony: 300 x 300 Ceramic Floor Tiles
Toilet & Bath: 300 x 300 Synthetic Granite Tiles
WALL FINISHES:
Interior Walls: Plain Cement semi-gloss Latex finish for Wall surface
Semi-gloss Latex finish for Dry Wall partitions
Toilet & Bath: Plain Cement semi-gloss Latex finish for concrete surface with 300 x 300 Synthetic Granite Tiles
CEILING FINISHES:
12mm-thick Gypsum Board Moisture-Resistant Flat Latex Paint Finish.
CEILING HEIGHT:
Above Standard Ceiling Height
2.80 meters in Living Areas
2.40 meters in Toilet & Foyer Areas
KITCHEN AREA:
Medium Density Fiber (MDF) on Solid Wood Frame (Kitchen Cabinet)
2mm-thick White Solid Surface Countertop
Stainless Steel Satin Finish Single Bowl without Drain Board (Kitchen Sink)
Goose Neck (Kitchen Faucet)
WINDOWS:
Tempered Glass on Powder Coated Aluminum Frame
BALCONY RAILING:
Powder Coated Aluminum Railing (where applicable)

STANDARD BARE UNIT FINISHES

FLOOR FINISHES:
Living, Dining & Bedroom: Cement trowel finish
Toilet & Bath: Cement trowel with water proofing
WALL FINISHES:
Interior Walls: Interior Walls: Plain cement finish with one (1) coat primer
Toilet & Bath: Toilet & Bath: Plain cement finish
CEILING FINISHES:
Living, Dining & Bedroom: Off-form cement finish
Toilet & Bath: Exposed off-form cement finish
SUN RESIDENCES TOWER 2 : UNITS & FLOORPLANS
CONDOMINIUM FOR SALE NEAR UNITED DOCTORS MEDICAL CENTER IN WELCOME ROTONDA QUEZON CITY
---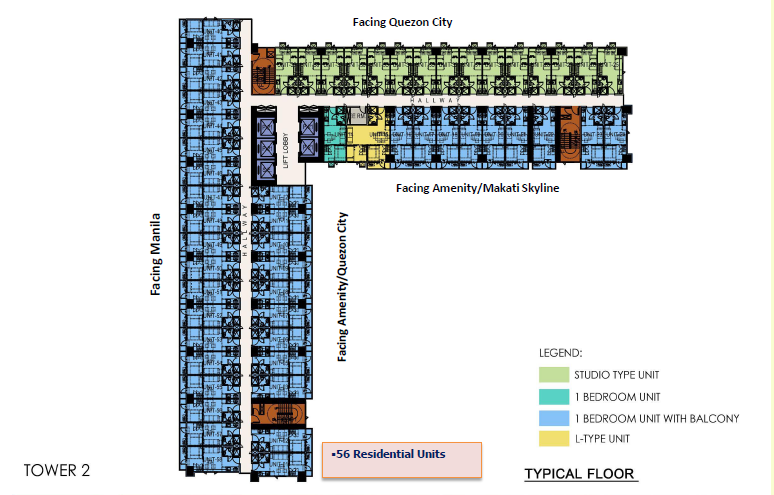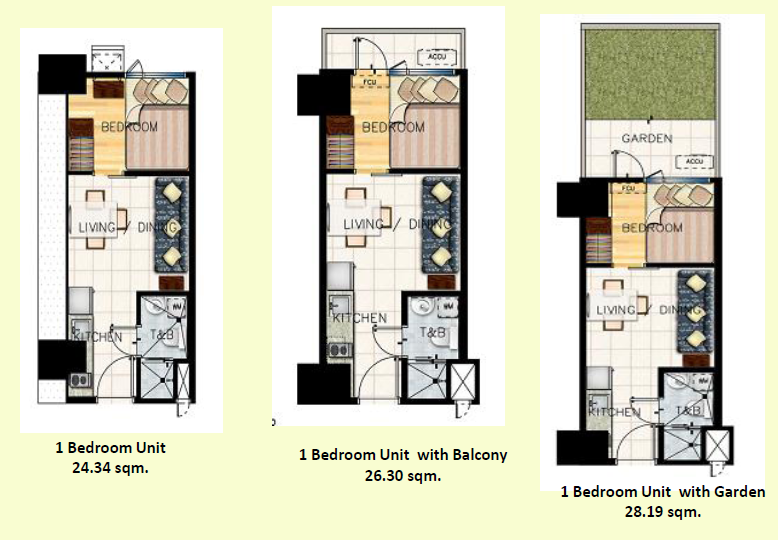 TURNOVER FINISHES
---
STANDARD BASIC UNIT FINISHES
FLOOR FINISHES:
Living, Dining & Kitchen: 600 x 600 Polished Synthetic Granite Tiles
Bedroom: 300 x 300 Synthetic Granite Tiles
Balcony: 300 x 300 Ceramic Floor Tiles
Toilet & Bath: 300 x 300 Synthetic Granite Tiles
WALL FINISHES:
Interior Walls: Plain Cement semi-gloss Latex finish for Wall surface
Semi-gloss Latex finish for Dry Wall partitions
Toilet & Bath: Plain Cement semi-gloss Latex finish for concrete surface with 300 x 300 Synthetic Granite Tiles
CEILING FINISHES:
12mm-thick Gypsum Board Moisture-Resistant Flat Latex Paint Finish.
CEILING HEIGHT:
Above Standard Ceiling Height
2.80 meters in Living Areas
2.40 meters in Toilet & Foyer Areas
KITCHEN AREA:
Medium Density Fiber (MDF) on Solid Wood Frame (Kitchen Cabinet)
2mm-thick White Solid Surface Countertop
Stainless Steel Satin Finish Single Bowl without Drain Board (Kitchen Sink)
Goose Neck (Kitchen Faucet)
WINDOWS:
Tempered Glass on Powder Coated Aluminum Frame
BALCONY RAILING:
Powder Coated Aluminum Railing (where applicable)
STANDARD BARE UNIT FINISHES
FLOOR FINISHES:
Living, Dining & Bedroom: Cement trowel finish
Toilet & Bath: Cement trowel with water proofing
WALL FINISHES:
Interior Walls: Interior Walls: Plain cement finish with one (1) coat primer
Toilet & Bath: Toilet & Bath: Plain cement finish
CEILING FINISHES:
Living, Dining & Bedroom: Off-form cement finish
Toilet & Bath: Exposed off-form cement finish
Property Details
| | |
| --- | --- |
| | ₱ 15,000 |
| | 3401 sqm |
| | 20 sqm |
| | N/A |
| | Quezon City |
---